SHUTTERS & GUTTERS
On a beautiful home, the details make all the difference.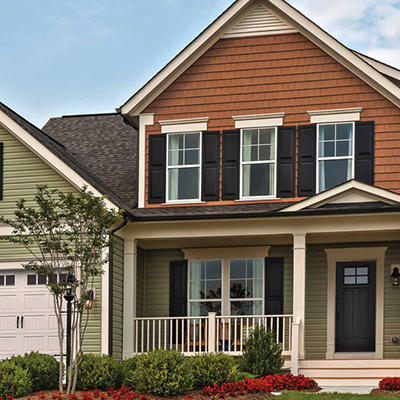 Why Our Shutters & Gutters?
From landscaping, to windows, to siding and trim, you've gone through all of the effort to make the exterior of your home a beautiful landmark in your neighborhood. Now it's time to add the finishing touches, because the details make all the difference. Every home is as unique as the people who live there. That's why with our Mid America shutters, you'll find an impressive range of sizes, colors and architectural styles that all come together to give each home a cohesive, finished look.
Our gutters are a sleek, seamless aluminum that will add a polished look and top-notch functionality. Especially when paired with the Leaf Solution system that is designed to keep leaves and debris out, so you can spend more time enjoying your home.


Mid America offers high-quality shutters, with an industry-leading color palette. www.midamericacomponents.com

We install seamless aluminum gutters, and have the option to add Evelyn's Leaf Solution to keep your gutters clean. www.leafsolution.com